Preschool is the beginning and crucial chapter of children's educational life,  which sets a foundation for their future. Children in the  early years at International schools can develop interests, habits, attitudes, and values that allow them to strengthen communication and social skills for further learning. However, the unfamiliar and new environment might daunt parents and children. The first day at preschool is also the time to leave their beloved parents' arms to learn more about the outside world and interact more with strangers. There is no doubt that children are usually frightened and cry, making their parents concerned. To avoid such things happening, what should parents prepare for children's first attendance at school? Through this article, International School Saigon Pearl (ISSP) will guide parents thoroughly in detail.
Visit school together with your children
Parents should bring children to visit the new learning environment before sending children to pre-school. Parents can let children play at the school playground for the first few days, then walk them on a campus tour. Hold some conversations with teachers and observe the children. Within that process, parents should describe the school, the class, teachers, and friends in the most easy-to-understand way. These steps will help children feel more comfortable and confident when attending school.
Prepare your child's personal items for school
The daily items in children's luggage on the first day of school such as:
For 1-2 years old children, parents are normally required to prepare a hat, shoes, toothpaste and toothbrush, cup, towel, small pillow and blanket, and a water bottle. Besides, parents also need to prepare 3 diapers, 3 underwear, 3 clothing sets and a bag to put on filthy clothes.
For children from 3-4 years old, it is simpler, only need to prepare a hat, slippers, toothpaste and toothbrush, water bottle
Establish a set schedule
Parents can refer to the school timetable, including pick-up time, breakfast time, class time, lunch, nap, snack, school time, and after-school time, and try their best for their children to be happy by following this timetable. If both parents and children are doing well in their daily schedule, children will adapt faster when they go to preschool. Besides, this can offer children personality development opportunities: responsibility and decision making.
Listen to your child and share your experience
Listening and sharing experiences with children is crucial, as it builds their personalities, such as self-esteem, independence, and confidence. Besides, this is also an ideal way to improve communication and understand more about children. Sharing parents' experiences, feelings, and memories when first going to school can help children picture and imagine more about the first day at school and create a peaceful mind knowing they are picked up daily. 
Soft star guidelines for parents before children go to school from ISSP
International School Saigon Pearl (ISSP)
International School Saigon Pearl is the only monolingual international school in Binh Thanh District – Ho Chi Minh City for children from preschool to primary school. ISSP belongs to the Cognita education international group with over 85 members worldwide. ISSP is the only preschool and primary school in HCM city fully accredited by two prestigious educational accreditation organizations worldwide, the Council of International Schools (CIS) and the Association of Schools and Colleges New England (NEASC). At the same time, ISSP is also an International Baccalaureate candidate school for Elementary (IB PYP).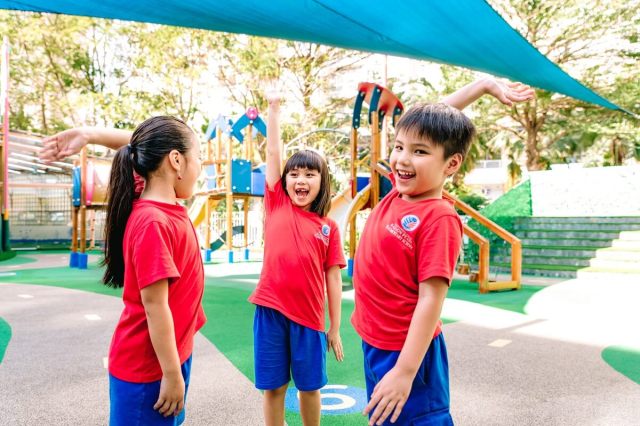 The school teaching team is all certificated with international qualifications. Over 30% of ISSP teachers hold master's degrees in a specialized major. Additionally, school facilities are modernized and constantly updated to benefit children's learning and physical development. Notably, the preschool program at ISSP is inspired by the Reggio Emilia philosophy, allowing children to master and lead themselves in learning. 
Read more: How international school tech children about compassion and social responsibility
Soft star guidelines for parents
Some useful guidelines for parents on a child's first day at school from ISSP.
 Stick with morning and bedtime routines
Some children have the behavior of waking up late and going to school in a rush. This is a harmful act, especially on children's first day at school. Accordingly, parents should practice the routine of going to bed early and waking up early in the next few days. If possible, parents should have breakfast with the child before school. Moreover, prepare Good Morning and Good Night check listed to prepare and practice for children to get used to the morning and bedtime routine. These to-do lists give preschoolers a sense of belonging and reassurance and create extra bonding with parents.
To maintain a happy and positive condition, Parents can play role-playing games to discover more about school activities such as reading stories.  Reading stories related to school and discussing the character's emotions while encouraging children to believe that going to school is fun. Reading to children daily can improve a child's listening skills and enhance vocabulary, besides developing an imaginative mind which is crucial for creative innovators. 
Playschool together at home
Benefit the pretend-to-play to help children get used to the preschool environment and understand children learning needs. Take turns acting out routines such as story time, singing songs, or nap time. Moreover, switching roles allows children to be the teacher would be more exciting. This will help children think of school as a fun place and reduce anxiety on the first day. Besides, parents should not forget to allow children to practice self-care skills such as wearing a backpack, changing clothes by themselves, taking off and putting on shoes, drinking water, eating with a spoon, etc. Such routines can sharpen motor skills and enable children to absorb new skills faster and better. 
Look out for Separation Anxiety
To avoid children feeling anxious, parents should stay longer on children's first day at school, about an hour more before leaving to help children get used to the change, and do not forget to say goodbye to them before leaving. In the first week, parents and the school can arrange to allow children to study for a half day to adapt to the new environment slowly. Besides, arranging pick-up children on time to avoid affecting children mentally. Once the children have child adapted to the new school environment, goodbyes will be much easier.
Let children practice the habit of how to use the toilet. Parents should not force children but encourage them to experience the toilet most comfortably. When the child is doing great, do not hesitate to praise them; if not, do not be disappointed.
Plan a sneak peek of the school
After grabbing the tips and guidelines of what to prepare for children on their first day at school, the next necessary task is to help children adapt well to the classroom, teachers, and friends. Usually, it takes 2-4 weeks for children to adapt well to such things. Therefore, participating in campus tours, play at the playground and interacting with teachers can help children adapt to the new environment faster before sending them to pre-school. Explain and help children picture what is going to happen there such as story times, meeting classroom toys and pets, learning new things, and eating snacks or have fun with new friends.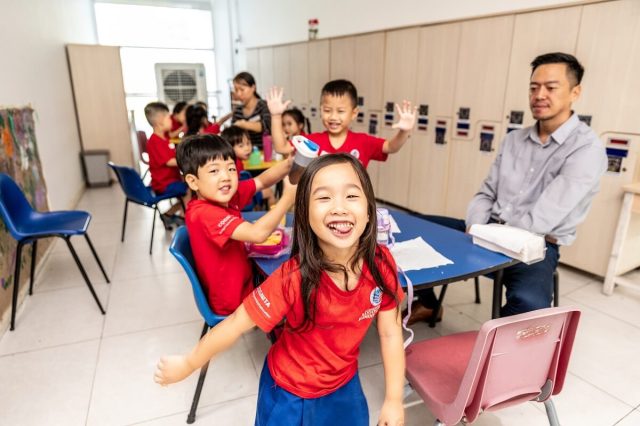 The above article gives useful information about how to prepare your child for an International Preschool Saigon Pearl (ISSP). Hopefully, with provided information, parents will feel more assured when sending their children to ISSP.
For more information, parents can contact the ISSP Admissions Office via:
Phone number: +84 (028) 2222 7788.
Email: admissions@issp.edu.vn.