A qualified international school is a school that not only meets the requirements of the international learning environment but also meets the criteria set by education accreditation organizations. To help parents understand this issue better, International School Saigon Pearl (ISSP) will share information about 3 prestigious and quality international education accreditation organizationsand their evaluation process in the following article.
Visit International School Saigon Pearl (ISSP) to experience the international curriculum and facilities

The Council of International Schools (CIS)
As a global non-profit membership community, the Council of International Schools (CIS) is committed to providing a high quality of international education to students and their families. Currently, more than 1300 schools and universities, representing 123 countries, are a part of the CIS membership community.
To achieve long-term sustainable growth, the CIS community and its members together always strive and aim for the following things:
A desire to provide students with knowledge, skills, and abilities to pursue their dreams and goals in life as global citizens
A commitment to providing high-quality international education
To achieve the goals set by the community, the mission of all members is to deliver services as well as curriculum in an intercultural and international standard to facilitate student-centered learning. In addition, elementary and middle schools participating in the CIS community need to commit to an ongoing quality assurance process to enhance student learning.
To be accredited as a qualified international school by the CIS international education accreditation organization, schools need to meet the following criteria:
Dedicated to its mission and vision in education for students
Having meditated upon the services it offers to students, family, and community
Spending time and effort to be accredited by a recognized international organization
Focusing on the quality of teaching, student learning as well as student well-being and recreation
Committed to the development of the global citizenship of the students.
Having a philosophy of education suitable for its students
Always fulfilled its promise
Ready to be included in regular evaluation by its school community and peer evaluators
Constantly seeking improvement in all areas of the school strategy for the future
The accreditation process to be a member of CIS includes the following things:
A rigorous evaluation against internationally-agreed standards during a 5-year cycle
A blend of support and challenge focused on a school's development
A peer-based model that brings together international CIS-accredited schools from across the world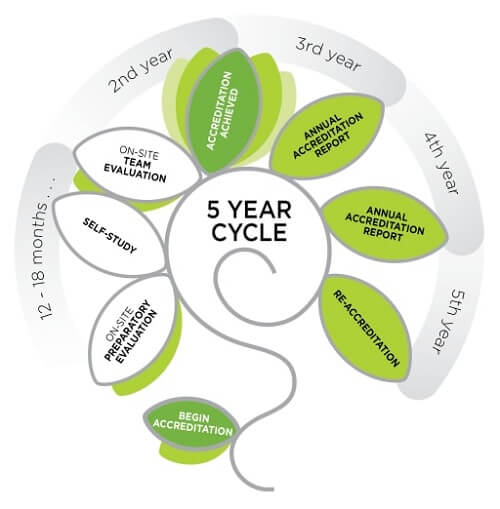 >> The accreditations and affiliations of ISSP <<
The New England Association of Schools and Colleges (NEASC)
Unlike other international education accreditation organizations, the New England Association of Schools and Colleges (NEASC) is an independent, voluntary, and nonprofit membership organization. More than 1500 public, private, and international schools in the United States and throughout the world are connected and served by NEASC.
The organization has been working longer than any other accreditation agency in the United States intending to sustain and advance the quality of education for all levels. To accomplish this mission, NEASC will do the following things:
Establishing and maintaining high standards of education.
Providing a framework for institutional self-reflection and objective peer review
Serving as a resource and support for continual, meaningful whole-school improvement and growth
International schools that want to be accredited by the NEASC international education accreditation organization must meet the following criteria:
Ensuring that school policies and systems can support an effective and high-quality learning community
Providing models and framework for the community and accreditation groups to identify each institution's specific strengths and necessities
Developed solely by each of the NEASC Commissions to meet the unique requirements of the schools served – whether public, independent or international
Giving orientations on skills, knowledge, values​, and development directions that serve well for students' learning and future success
Focused primarily on personalized and impactful learning
The accreditation process to be officially accredited by NEASC includes 3 steps:
Reflection: The entire education community including faculty, staff, administrators, students, community members, and board members has to self-assess and plan to meet the Standards of Accreditation.
Review: A team of trained volunteers from the educational community evaluates the school's alignment with the appropriate commission standards. They conduct a process that entails observing teaching and learning, arranging interviews, reviewing reports written by and about the school, validating the school's self-reflection, identifying strengths of the school, and making recommendations to support better alignment with the Standards, school improvement and future planning.
Renewal: A school personnel sketch out and implement short-term, long-term strategic plans in response to recommendations from NEASC's Visiting Team Report. The NEASC Association continues to assess and provide additional personalized support for member schools' development.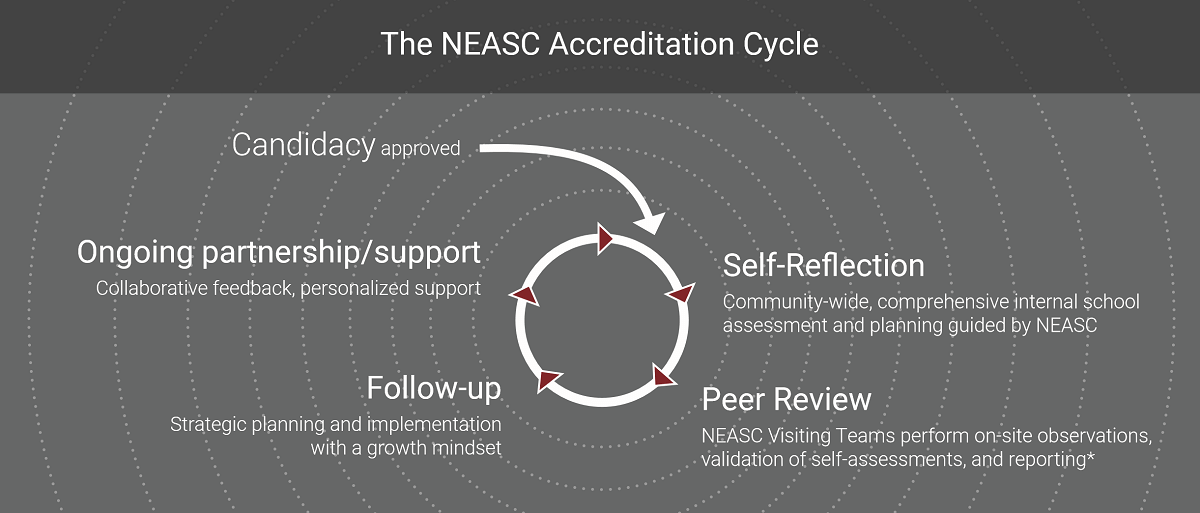 The Western Association of Schools and Colleges (WASC)
The Western Association of Schools and Colleges (WASC) was established to foster the outstanding progression of elementary, secondary, post-secondary educational institutions and supplementary education programs. This international education accreditation organization advances school improvement through a process of continual assessment as well as recognized institutions by granting accreditation to schools that meet the criteria of the WASC.
WASC will conduct accreditation and certification for a specific school if it meets the following criteria:
Ensuring a culture of engagement, collaboration, and trust
Ensuring a safe and well-being learning environment for all students
Demonstrating that all students understand and accomplish the shared purpose and learning outcomes
Evaluating all student's performance in terms of academic standards and school-wide learner outcomes
Using a variety of methods to analyze and evaluate data about student learning
Implementing and monitoring actions to encourage continuous growth
Focusing on student and school necessities
Prioritizing and aligning activities that focus on the needs of students and the school as a whole
Evaluating educational program effectiveness
The WASC's accreditation process is a continuous 6-year cycle. Accredited schools are assessed and organized quality improvement activities every 6 years. During the accreditation cycle, schools are required to conduct a strategic school-wide development plan and provide evidence that student learning outcomes have been improved. Schools also have to submit assessment reports throughout the process.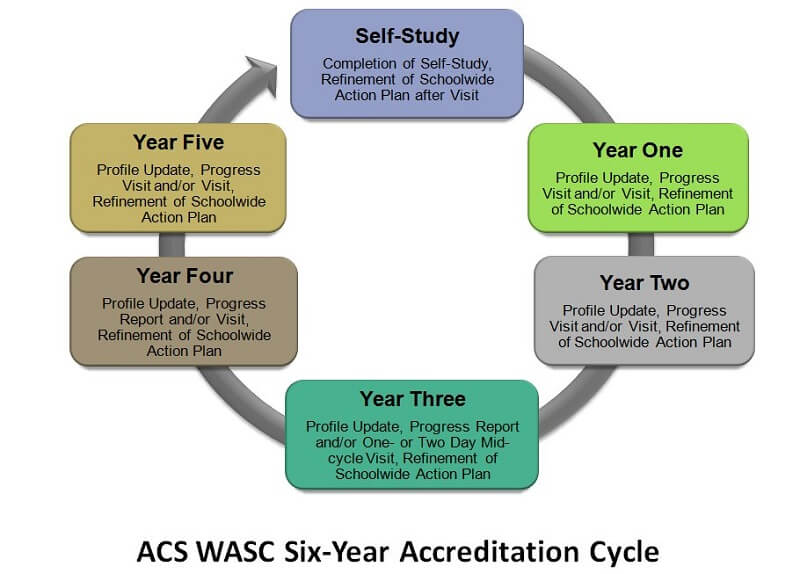 International School Saigon Pearl (ISSP)
International School Saigon Pearl (ISSP) is a world-class, purpose-built international school for students aged 18 months to 11 years located in Binh Thanh, Ho Chi Minh City, Vietnam. Currently, ISSP is the only international preschool and primary school in Ho Chi Minh City fully accredited by both CIS and NEASC, two of the prestigious international education accreditation organizations. ISSP has also become an IB candidate school to teach the International Baccalaureate Primary Years Programme (IB PYP) that is internationally recognized since 2021.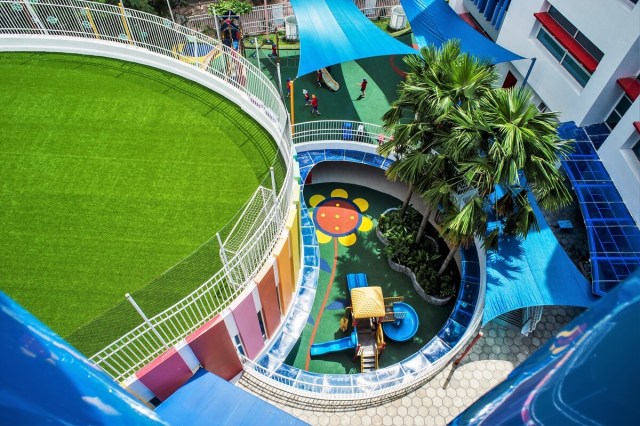 ISSP would be the suitable choice for parents who are looking for a truly international school for their children. ISSP offers an integrated international curriculum with the combination of the IB PYP framework, American and Vietnamese standards. The school curriculum is centered on the 5 core values including honesty, caring, respect, responsibility, and wisdom, aligned with the 10 attributes of the IB learner profile.
Teachers at ISSP not only have international qualifications and certifications related to preschool and primary school education but also surpass global background checks by First Advantage, a world's famous international background check organization. Furthermore, they are also trained weekly and yearly about safeguarding and child protection policy and psychological programs related to children.
The ISSP campus is purpose-built to offer high quality for early years and elementary education and a safe learning environment for young children. ISSP has high-end facilities including classrooms, laboratories, libraries, a football field, a swimming pool, and specialized classrooms.
Before making a decision, parents and students should book a tour to visit ISSP for a holistic observation and evaluation. With a visit to ISSP, parents could also have a chance to meet the Academic Leadership Team and teachers as well as to experience the safe learning environment there. For further information about ISSP, parents can contact the ISSP Admissions Office via:
Phone: +84 (028) 2222 7788
Email: admissions@issp.edu.vn
This article from International School Saigon Pearl (ISSP) has provided parents with some fundamental information about 3 prestigious international education accreditation organizations. With this information, parents can now be more active in choosing a high-quality and suitable international school for their children.