With the rapid development of technology, students have the opportunity to access and experience modern devices from the very beginning of life. Therefore, parents need to teach their children how to use the internet safely when they are young. Why do parents need to monitor their children's internet usage? Join ISSP to learn the article below to answer this question!
In addition, parents are invited to make an appointment to visit International School Saigon Pearl to experience and explore the educational environment at ISSP.

Why do we need to teach children to use the internet safely? 
In the modern era of rapidly advancing technology, the internet provides children with countless opportunities for growth and development, but also presents potential risks that can have significant impacts. These risks include several key factors. 
Firstly, children may struggle to balance their time between the real world and online activities, which can lead to addiction to games, gambling, and excessive internet usage. 

Secondly, children may unknowingly reveal personal information that can be easily monitored, intruded upon, or exploited by malicious individuals. 

Thirdly, social media platforms can spread cases of violence, harassment, and other forms of misconduct, which can cause children to become fearful and withdrawn. 

Fourthly, the vast amounts of information available on the internet can expose children to fake, false, and distorted information that can affect their cognitive and mental health.

Lastly, harmful software and pre-installed virus links or files can easily invade devices, putting users' confidential information and personal accounts at risk. 
To create a safe and healthy online space for children, parents, schools, and society must work together to educate children on how to use the internet safely.
>> Read more: Solutions to ensure school safety at International Preschool Saigon Pearl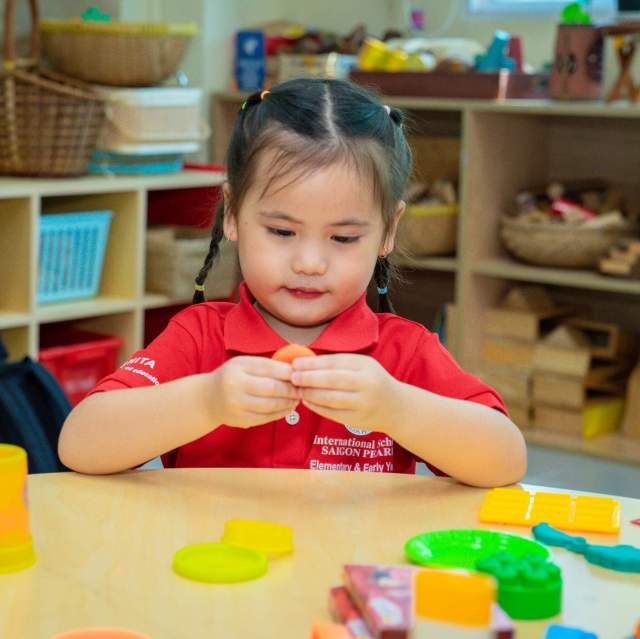 Why do we need to teach children to use the internet safely? (Source: ISSP)
Parental principles for fostering healthy internet use in children
Protecting personal information:

Parents should not let their children know personal contact information, not allow sharing passwords, and not interact with strangers on

social media platforms

.

Clear regulations on internet usage time:

Parents should set specific time frames for allowing their children to access the internet. Children often struggle to manage and organize their study and play time, so parents can intervene and help them with their time management.

Control children's access to content:

Family members should have the responsibility to monitor the content that children often access and are interested in. Parents should also guide and introduce safe websites that support the comprehensive development of children. Timely prevention and control measures should be taken, reminding children to avoid logging into channels that publish inappropriate content.

Encourage children to participate in social activities:

Parents should encourage and motivate their children to participate confidently in community activities and self-care activities. Support children in balancing their real life and their life on the internet…
>> Read more: How international schools teach children about compassion and social responsibility

Parental principles for fostering healthy internet use in children (Source: ISSP)
How to help children develop safe internet skills
Talk to your child about internet usage
Parents can choose to talk to their children about the content that appears on social media: "What's new on the internet today, my child?", "Can I play with you?",… These questions will create a sense of intimacy and convenience for sharing between both sides as well as help the child understand how to use the internet safely. Parents should also talk to their children about anxiety disorders, depression, school, and other triggers that can lead to excessive internet use.
>> Read more: Holistic Education, Explained
Encourage children to seek help if they encounter problems
In difficult situations, children often choose to avoid problem-solving and do not want to face the truth. Therefore, parents should observe and understand their children. Parents should encourage children to actively and confidently seek and exchange directly with friends or older siblings when there are issues between them instead of behaving rudely and violently on social media.
>> Read more: List of Best International Schools In Vietnam 2023 – 2024 – 10 Schools
Instead of trying to prohibit children from accessing inappropriate content on the internet, parents should implement early education measures for children. That is, parents can perform the following methods to support their children to use social networks safely and healthily:
Parents should guide children to perform 2-layer account security to ensure that all personal information is not invaded or stolen.

Children need to actively research and consult with their parents before posting any information on social media to ensure that the recipient is accurate.

Parents should check their child's account in a gentle, not too strict, controlling manner. Parents should not secretly perform this behavior because it will create a feeling of being monitored and uncomfortable for the child.
>> Read more: Top 15 Best International Schools in Ho Chi Minh City, Vietnam 2023 – 2024

Instead of accessing network, children can play games in outdoor (Source: ISSP)
Install a computer in the living room or a common area
Parents should install internet-connected devices in places where people often come and go to limit cases of children accessing unhealthy websites, inappropriate content, sensitive information, etc. This will also make it easy for family members to manage and observe children's daily habits and behaviors.
Using child-friendly search tools
To help children develop and grow up in a safe and healthy environment, parents should choose and allow their children to use internet search tools that are appropriate for their age. For example, using YouTube Kids for children's entertainment and fun, turning on safe search on Google when children start searching, etc.
>> Read more: TOP 5 best IB schools in Vietnam

Children playing based on learning leads to effective learning. (Source: ISSP)
Method of teaching children to use the internet safely at ISSP
At ISSP, teachers in the global digital citizenship class always ask students: How can we use technology in a balanced and healthy way? Through similar questions, children's brains will be stimulated to develop, think and give their opinions on how to use the internet safely. Teachers at ISSP not only listen and adapt their opinions, but also provide suggestions to assist both students and parents in applying supportive measures that contribute to the children's growth process. 
Global digital citizenship class integrated into ISSP teaching program
Located in the Saigon Pearl residential area, Binh Thanh District, Ho Chi Minh City, International Preschool and Elementary Saigon Pearl (ISSP) is the choice of many parents seeking a high-quality international learning environment for children aged 18 months to 11 years old (Preschool – Grade 5). ISSP takes pride in being a candidate school for the International Baccalaureate (IB), with dual accreditation from two reputable global educational accrediting organizations: CIS and NEASC. This ensures that ISSP fully meets the global standards of a genuine international school.
Interactive iPad program helps children gain confidence, use technology with purpose and responsibility
The ISSP program, "Interactive iPad," aims to promote the use of technology with purpose and responsibility, recognizing the importance of technology and the internet in children's future development. The program not only helps children gain confidence and overcome the fear of using devices, but also provides a tool for them to express their thoughts and opinions clearly.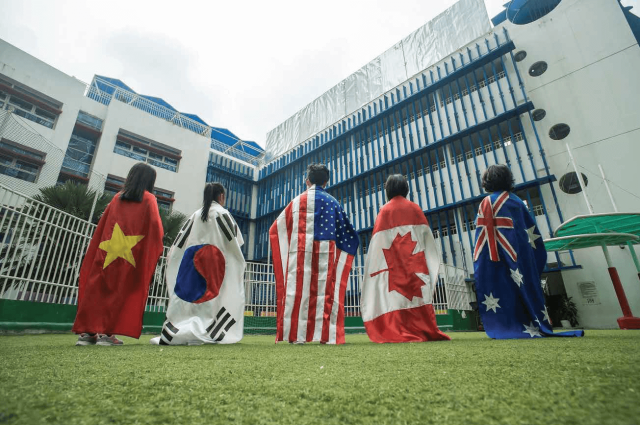 International School Saigon Pearl located in Binh Thanh District, Ho Chi Minh City, Vietnam. (Source: ISSP)
With the educational philosophy of "placing students at the center," ISSP is committed to nurturing the intelligence and souls of students through a balanced education program, enabling them to develop holistically and adapt well to an uncertain future. The school's facilities are modernly invested, fully meeting the training and recreational needs of students, including a school library with 18,000 English books, specialized rooms for Music and Art, a multipurpose sports hall, a preschool swimming pool, playgrounds, a football field, and an Innovation Hub equipped with STEAM, Studio, Robotics, and various other rooms and equipment.
In addition to modern criteria, security, convenient location, and the IB international program, parents can rest assured that their children will receive education in an environment that emphasizes personalized learning for each student, with the dedication of a highly qualified teaching staff. ISSP students also have the opportunity to transfer to prestigious high schools in Ho Chi Minh City or anywhere else in the world. 100% of Grade 5 ISSP students are guaranteed admission to reputable member schools within the Cognita Group in Vietnam, including the International School Ho Chi Minh City (ISHCMC) or the American Academy (ISHCMC-AA).
To know more about the ISSP program, facilities, teaching staff, and quality of education, interested parents can schedule a visit or contact the Admissions Office through the following channels:
Through this sharing, ISSP hopes that both parents and students will learn to use the internet safely and healthily. With the vast amount of information available on the internet, students can become smart and discerning users, serving their overall development. If there are any further questions, please contact the hotline for dedicated support and advice from the ISSP team.