TheIB program is a worldwide, non-profit education program established to develop the whole child. So what is the IB program, its benefits and the IB learner profile attributes? In order to answer these questions, read the following article from International School Saigon Pearl (ISSP) below.
What is the IB program?
International Baccalaureate (also known as IB) is a pre-university educational program, specially designed for students who aspire to have access to education in terms of international standards. Students enrolling in the IB program are fully equipped with the necessary skills and knowledge to continue their studies at the University. Established in 1968, the program focuses on helping students develop four aspects including Intelligence, Individual, Emotion, and Soft Skills which helps them be able to study and work in the international and globalized environment.
TheIB program is considered to be the best and most challenging preparatory program in the world beyond A-levels. Currently, the IB program is globally taught in three main languages: English, French, and Spanish. The World International Baccalaureate Organization (IBO) is responsible for managing and ensuring consistent training quality.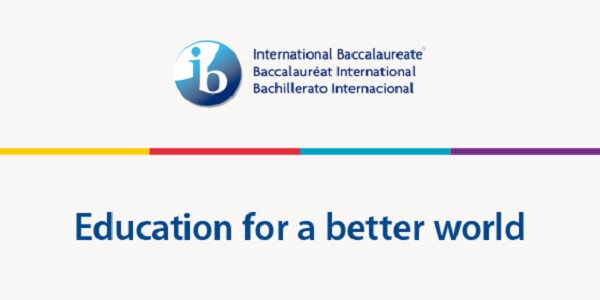 What is the International Baccalaureate program?
Read more: TOP 10 best international schools in Vietnam
4 types of IB program
International Baccalaureate program encompasses 4 sub-programs including Primary Years Programme (PYP), Middle Years Programme (MYP), Diploma Programme (DP) and Career-related Programme (CP).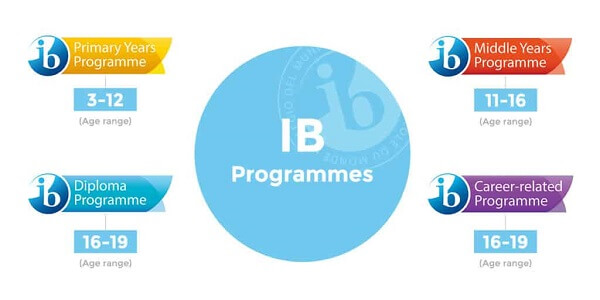 4 types of IB program (Source: ibo.org)
International Baccalaureate Primary Years Programme (IB PYP)
This program is for students aged 3 to 12 years old and was developed in 1997. Through a student-centered approach to education, the PYP fosters and develops young pupils as caring and active participants in a lifelong journey of learning.
International Baccalaureate Middle Years Programme (IB MYP)
Initiated in 1994, this program is for students ranging from 11 to 16 years old. The MYP is an inclusive framework that encourages students to create practical connections between their studies and the real world. Students of various interests and academic skills may benefit from their involvement.
International Baccalaureate Diploma Programme (IB DP)
This is the highest level of IB program for students aged 16 to 19, started in 1968. The program aims at assisting students in providing and developing their knowledge in excellent and intensive ways with 4 aspects: physical, intellectual, emotional and ethical.
The most-renowned IB program is the IB Diploma, which is taken by students within the final years of high school in preparation for university admission. The DP consists of six subject areas and also the DP core, which is comprised of the "theory of knowledge" (TOK), creativity, activity, service (CAS) and also the extended essay.
The IB Diploma is well-regarded and accepted by several universities around the world due to its educational rigor and speciality in developing important thinking skills. Within the US, for example, the IB Diploma Program has grown to become the unofficial "college standard", with universities admitting IB students at a higher rate on average compared to their non-IB counterparts.
CP is similar to DP in that it integrates school and job knowledge for students to continue their studies in progress or begin a profession immediately. The CP program began in 2012.
Read more:
What are the benefits of IB program for students?
There are many significant benefits of the IB program for students which are listed on the following:
IB Program helps students to develop critical thinking and complicated problem solving skills on their own learning path.
IB Program is one of the educational programmes that give students a higher opportunity to learn in TOP prestigious universities around the world. Compared to students studying other curricula, students study IB Program performance better on academic activities. Many investigations and researches were conducted to prove this. For more information, please read key findings from IB research from International Baccalaureate Organization (IBO).
Besides mother language, IB Program helps students develop a second language in an International learning environment.
After studying IB Program, students will be able to study at a higher international learning level and work in an international environment after graduation as global citizens.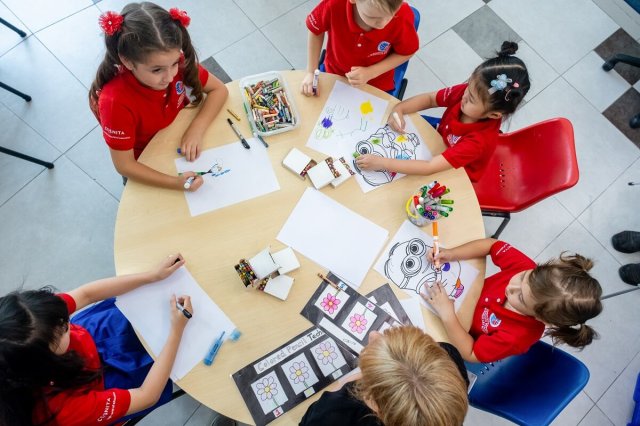 What are the benefits of IB program for students? (Source: ISSP)
IB learner profile
IB program is committed to the develop learners, who are:
Inquirers: Students cultivate their innate curiosity, develop the skills needed to undertake inquiry and investigation, as well as demonstrate their learning independence. Moreover, they enjoy studying, and this enthusiasm will last throughout their lives.
Knowledgeable: Students can explore concepts, ideas, and challenges with local and global implications. In doing so, they gain in-depth and comprehensive knowledge across a diverse and well-balanced spectrum of subjects.
Thinkers: Students take the initiative to employ critical and creative thinking skills to detect and tackle complicated issues, as well as to make reasonable and ethical judgments.
Communicators: Students can grasp and convey ideas in more than one language through different ways of communication with confidence and creativity. They can collaborate efficiently and effectively with others.
Principled: Students behave with integrity, honesty, and a strong sense of fairness, justice, and respect for individuals, groups, and communitie. They take responsibility and accept consequences for their acts.
Open-minded: Students understand and cherish their own cultures and personal histories, and are open to other people's and communities' opinions, beliefs, and traditions. They explore and analyse a variety of points of view, and are eager to learn from their experiences.
Caring: Students demonstrate empathy, compassion, and regard for the needs and feelings of others. They have a personal commitment to community services, and work to improve the lives of others and the environment.
Risk-takers: Students tackle unexpected situations and uncertainties with courage and foresight, and have the freedom of spirit to experiment with new roles, ideas, and methods. They are courageous and outspoken in the defense of their ideas.
Balanced: Students recognize the significance of maintaining intellectual, physical, and emotional balance in order to attain personal well-being for themselves and others.
Reflective: Students give careful regard to their own learning and experience. They can analyze and comprehend their own strengths and weaknesses in order to assist their learning and personal growth.
Read more: 3 international schools in Ho Chi Minh City belonging to Cognita Educational Group
International Baccalaureate Primary Years Programme (IB PYP) at International School Saigon Pearl (ISSP)
International School Saigon Pearl (ISSP) is a world-class, purpose-built international school for children aged 18 months to 11 years in Binh Thanh, Ho Chi Minh City, Vietnam. ISSP is currently the only early years and elementary international school in Ho Chi Minh City with prestigious accreditations from the Council of International Schools (CIS) and the New England Association of Schools and Colleges (NEASC). In 2021, ISSP became the IB Primary Years Programme (IB PYP) candidate school. The school is applying the IB framework into the study program of early years and elementary students.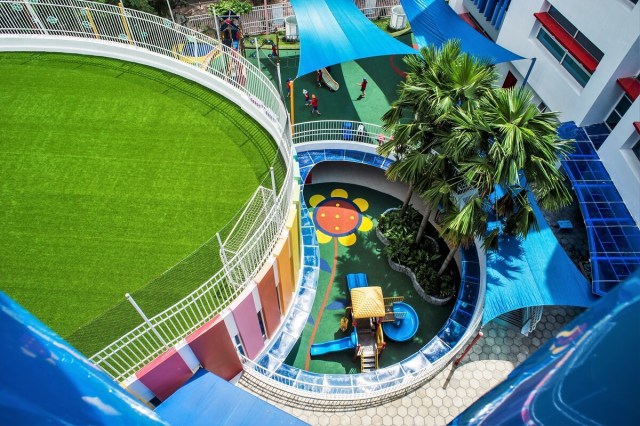 The International Preschool Saigon Pearl (Source: ISSP)
The IB PYP framework applying in teaching and learning program at ISSP focuses on 3 main points including Child-Centered Approach, Collaborative Learning and Transdisciplinary Approach. Firstly, in the learning process of students, IB PYP focuses on inquiry-based approach and is customized to keep students at the center of the learning. Moreover, students are encouraged to be involved in active learning experiences. Teachers and parents play a role as observers and instructors in a student's learning process. Secondly, all learning activities are designed in an interactive and fun manner for children to work in a group. This will help students learn more about the value of teamwork as well as collaboration. Last but not least, with a transdisciplinary approach, students are encouraged to find out the answer for crucial questions such as, "Who am I? Where do I belong? What is the importance of the environment around me?". This process will create a movement among the related topics. As a result, this helps students gain more knowledge and explore their own inquiries and interests for specific topics.
Read more:
For further information about ISSP or booking a tour to visit ISSP, parents can contact the ISSP Admissions Office via:
This article has provided parents and teachers fundamental information about the International Baccalaureate program definition, benefits of the IB program for students as well as the IB PYP at International School Saigon Pearl.